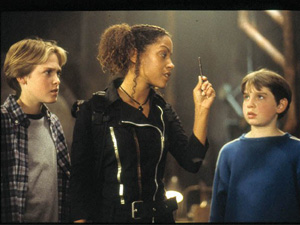 13x1/2 hour.
Live action and animation.
Tween series for YTV.
A kids sci-fi-series chronicling the adventures of an unlikely team of heroes who join forces in a quest to save the universe from evil. Led by the fearless alien operative, Zixx Phunkee Zee, Adam and Griff are two twelve year old boys who contribute their strategy game smarts to the battle in the Keep - a third dimension labyrinth which operates like a game.
Created by: Jeffrey Hirschfield.
Executive Producers: Alexandra Raffé, Debbie Nightingale, Paul Cadieux, Robert Carney.
Producers: Alexandra Raffé, Victoria Woods.
Directors: Stacey Stewart Curtis, Graeme Lynch, Adam Weissman, Jim Donovan.
Writers: Jeffrey Hirschfield, Sarah Dodd, Kate Schlemmer, Dean Lewis, Steve Westren, Phillip Stamp.
Principal Cast: Barbara Mamabolo, Jamie Johnston, Alex Hood.
Broadcaster: YTV.
Distributors: Thunderbird Films, Rainmaker Entertainment.