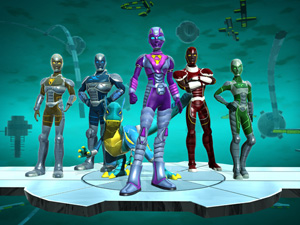 13x1/2 hour
Live action and animation
(delivery October 2007)
Zixx is thrilled when her team enters Level Three intact. The challenges of Level Three turn out to be fargreater than the previous levels and somewhere on this level in the Keep, Onncalon is growing ever stronger. Only the most powerful weapon of all time can defeat Onncalon and so the race in on to find the Sword of Gaanth.
Created by: Jeffrey Hirschfield.
Executive Producers: Alexandra Raffé, Sarah Dodd, Michael Shepard, Tim Gamble, Debbie Nightingale.
Producer: Ron McLeod.
Directors: Jon Rosenbaum, Adam Weissman, James Genn.
Writers: Sarah Dodd, Deborah Peraya, Elizabeth Stewart, Jeffrey Hirschfield, Rick Drew, Charles Lazer, Peter LaPres.
Principal cast: Barbara Mamabolo, Ephraim Ellis, Brenna O'Brien, Reese Thompson, T-Roy Kozuki.
Broadcaster: YTV.
Distributors: Thunderbird Films, Rainmaker Entertainment.